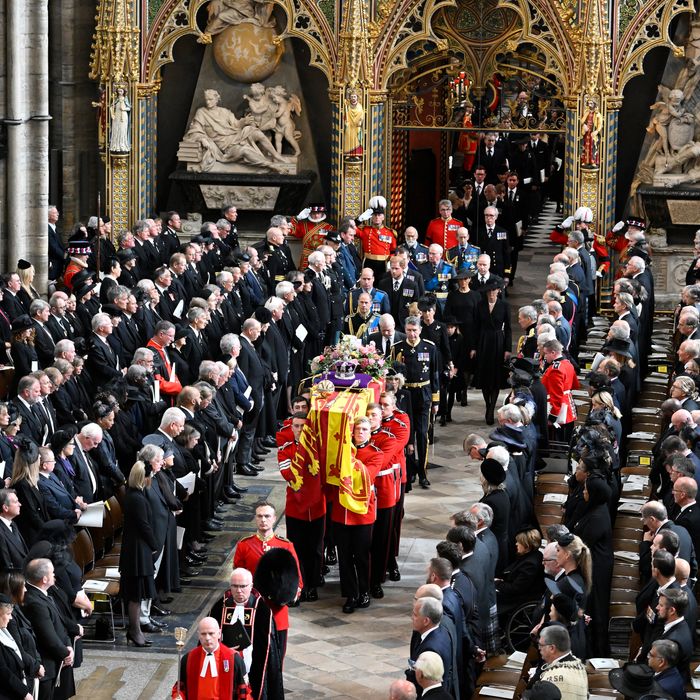 Photo: Gareth Cattermole/Getty Images
Here's a fact: If you gather a bunch of royal family members in the same room, there will be drama. Or, at the very least, there will be minuscule moments of tension that the tabloids will absolutely not let slip by unnoticed. Monday was the queen's funeral, which meant hours of meticulously planned royal protocol and almost all of the members of the British monarchy gathered in very close proximity — including our impressively petty new king. It gave us quite a lot of fodder for potentially awkward moments, which we have recounted here.
In the week leading up to the funeral, tabloids were abuzz with reported tension over who would be wearing a military uniform at the many services honoring the queen. Because Prince Harry had lost his military titles when he and Meghan stepped down from their royal duties, the royal-family dress code requiring royals who've served in the armed forces to wear their uniforms for military events (including state funerals) doesn't apply to him. He wasn't in uniform at the queen's Platinum Jubilee celebration this summer and has reportedly "come to terms" with wearing what I imagine is much more comfortable clothing to these events.
Then there's Prince Andrew, whose alleged sex crimes have somehow landed him in the same category as Harry — at…