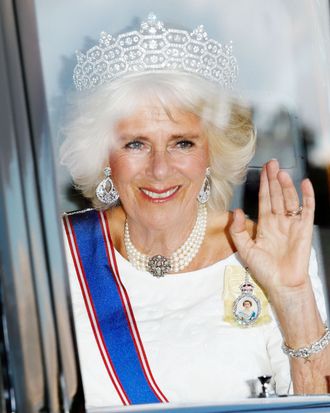 Photo: Max Mumby/Indigo/Getty Images
As you have probably heard by now, Queen Elizabeth II's 70-year reign ended on Thursday, September 8. Aside from a sensational day on the internet, her death has also set in motion a complex series of royal protocols concerning her succession, which unfortunately involve none of her corgis. Instead, her eldest son, Charles, will take the throne, and his wife, Camilla, will become the queen consort.
Camilla's involvement in the royal family is not without controversy. Charles's first wife was, of course, Princess Diana, who famously said that there were "three of us" in their marriage, referring to Charles's and Camilla's infamous affair, which ultimately ended Charles and Diana's (admittedly already unhappy) marriage. Camilla and Charles got married in 2005, and she's largely won over the affections of the British public, but her promotion to queen consort still came as something of a surprise. Here's what to know.
Charles and Camilla were longtime friends and dated on and off before he married Diana in 1981. According to several royal biographers and also The Crown, Charles wanted to marry Camilla but was steered away from her by the royal family, who didn't think she'd be a suitable wife largely thanks to the fact that she had a few ex-boyfriends and therefore was…