Phoebe Tatham


Meghan Markle looked visibly moved following the Queen's procession on Wednesday afternoon – watch now

Meghan Markle looked overcome with grief as she joined her husband Prince Harry at the Queen's procession to Westminster Hall on Wednesday.
SEE: Meghan Markle looks poised wearing elegant veil alongside royals at Westminster
Dressed in mourning clothes, the Duchess of Sussex paid her respects to the late monarch who sadly passed away on 8 September.
WATCH: Meghan Markle paid her respects to the Queen
While Prince Harry joined his brother Prince William behind the Queen's coffin, Meghan travelled by car before appearing at Westminster Hall alongside the Countess of Wessex.
MORE: Royal photographer reveals real reason Prince William invited Meghan Markle on walkabout
READ: Why Princess Kate and Duchess Meghan will wear veils at the Queen's funeral
During the touching service led by The Archbishop of Canterbury, Meghan let down her guard and could be seen inhaling deeply as the Queen's coffin passed by.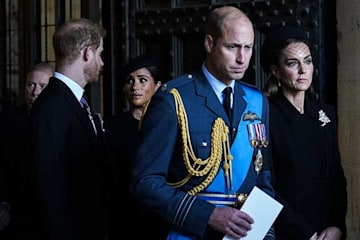 …
?xml>