Rachel Avery


Meghan Markle house: See the Duchess of Sussex's Instagram worthy dining room at her previous home in Canada before she lived with Prince Harry.

Meghan Markle has proved her interior taste is just as chic as her fashion sense in an unearthed snap taken inside of her former Toronto home.
MORE: Prince Harry and Meghan Markle seen making surprise visit to Oprah Winfrey's home
The Duchess of Sussex looked every inch the superstar as she posed with her feet up on a chair, revealing her bare legs and Ugg boots.
WATCH: Tour inside Meghan Markle's current family home
In the reflection of the mirror, her beautifully styled dining space could be fully admired, and it included a cowhide style rug and a white dining table. Meghan sat in a string tub chair to take her cute snap, snuggled up to a faux fur throw.
The room was painted white and had dark wooden floors but personality was then added with a bull's head hanging on the wall, artwork and plenty of plants.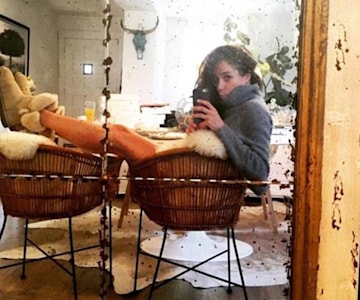 Meghan's very chic former dining room
The Duchess…
?xml>