Sophie Hamilton


The Duchess of Sussex has called herself an 'ugly duckling' growing up – see rare childhood photo of Prince Harry's wife Meghan Markle

In the latest episode of her podcast, Archetypes, the Duchess of Sussex revealed that she was an "ugly duckling" in her childhood years.
MORE: Prince Harry and Meghan set to get another famous neighbour at Montecito home
However, photos of Meghan taken from a TV interview with US cable show Nick News at age 11 in 1993, show she was a pretty girl who was confident in standing up for her beliefs.
WATCH: Duchess Meghan speaks about motherhood
The snaps show the now Duchess discussing a letter she had written to the company Proctor & Gamble, asking why a dishwashing advert referenced 'women' not 'people'.
Following Meghan's letter, the advert was changed to talk about 'people' as Meghan had requested. Quite the triumph for a young girl!
MORE: Why Prince George, Princess Charlotte & Prince Louis didn't have to relocate for Lambrook school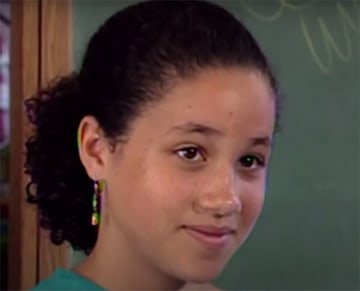 Duchess Meghan as a young…
?xml>