Seeing Serena Williams play is a treat for her fans. However, seeing Serena Williams play at Wimbledon is altogether a different feeling. Over the years, Williams has seen a full house at most of her Wimbledon matches. However, she has time and again also proved why she deserves a full house.
Going back in time, 4th July 2019, it was American Independence Day. However, on the contrary, it was just another usual day at Wimbledon. Fans were enjoying the second-round matches. On the Centre, Court was playing Serena Wiliams against Kaja Juvan in the second round. While fans enjoyed the thrilling action of Serena's dominance, it became even more special with the presence of Meghan Markle in the stands. 
ADVERTISEMENT
Article continues below this ad
Meghan Markle enjoys Serena Williams' match
Looking the life history of Meghan Markle, the Duchess of Sussex was born in California, USA. Being raised in America, she pursued her career as an actor till 2017. Following this, she was engaged to her then-boyfriend, Prince Harry. Being engaged to a Prince of the Royal British family, Markle gave up her American citizenship to become a British national.
DIVE DEEPER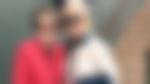 On 4th July 2019, Markel an American citizen by birth opted to celebrate American Independence Day with her fellow countrywoman, Serena…