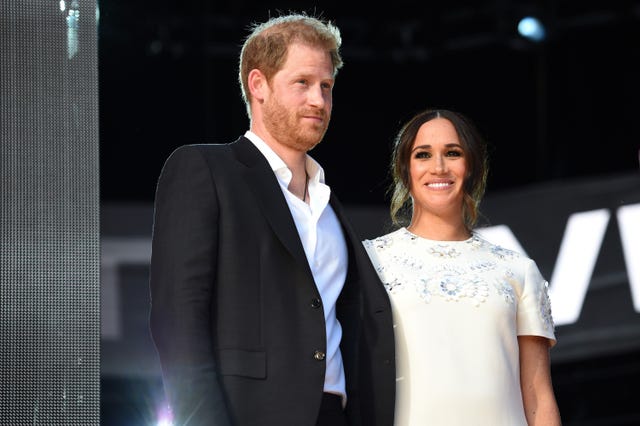 (C)Kevin MazurGetty Images
Prince Harry and Meghan Markle marked the second anniversary of the COVID-19 pandemic by calling for an end to vaccine inequity.
The Duke and Duchess of Sussex have joined over 130 world leaders, scientists, humanitarians, and more in signing The People's Vaccine open letter, and calling for an end to "vaccine monopolies" that hinder global access to the COVID-19 vaccine.
"Two years since the World Health Organization (WHO) declared COVID-19 a global pandemic – and faced with disturbingly unequal access to COVID-19 vaccines – we urge world leaders to do what is necessary to end this crisis and unite behind a People's Vaccine," the letter reads.
The letter criticizes wealthy countries for their handling of the pandemic, specifically calling out the United Kingdom, along with the European Union and Switzerland, for "block[ing] the lifting of intellectual property rules which would enable the redistribution and scale-up of COVID-19 vaccines, test and treatment manufacturing in the global south."
It also calls the current approach to vaccine access "immoral, entirely self-defeating and also an ethical, economic and epidemiological failure."
"We appeal to world leaders to end this strategy of counter-productive nationalism and of protecting pharmaceutical monopolies and to finally act with international solidarity," the letter continues. "Now is the time to renew the commitments made at the founding of the…