NEWYou can now listen to Fox News articles!
Camilla, Duchess of Cornwall, was allegedly "suspicious" of Meghan Markle's intentions before the American actress became a member of the British royal family.
The claim was made by British author Tom Bower, who has previously written several unauthorized biographies of famous figures, such as Prince Charles, Ghislaine Maxwell's father Robert Maxwell and Mohamed Al Fayed, among others.
On Monday, Bower told The Sun that Charles' wife remained "tight-lipped" with her opinions about the former "Suits" star.
"From the outset, Camilla was suspicious about the adventuress from Los Angeles," he claimed to the outlet. "She found it hard to believe that Meghan would sacrifice her career and independence to serve silently as a team player devoted to the monarchy."
PRINCE CHARLES' WIFE CAMILLA TESTS POSITIVE FOR COVID-19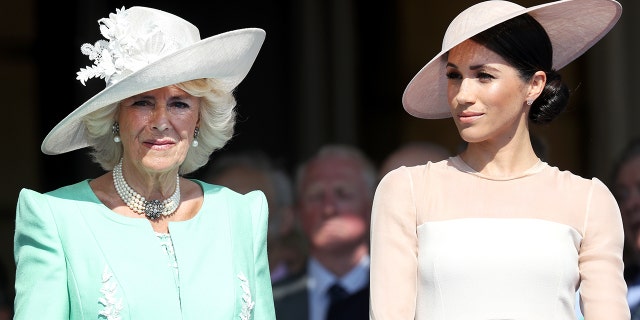 "But, as in all her conduct, Camilla remained tight-lipped," Bower continued. "While watching Charles painfully believe that Harry was intent on publicly humiliating him, Camilla undoubtedly provided the comfort and good advice to reassure her husband that he had done the best he could."
Bower also alleged that Prince Harry's stepmother had a private nickname for his wife.
"… Camilla is the sort who would refer to Meghan as 'that minx' – the self-seeking troublemaker…