Camilla, the Duchess of Cornwall, was "suspicious" of Meghan Markle's intentions in the royal family and secretly gave her two nicknames, a royal biographer has claimed.
Royal author Tom Bower alleges the two Duchesses never got along but says Camilla remained "tight lipped" once Prince Harry introduced Meghan into the royal family.
While Camilla put on a pleasant public front with Meghan, Bower claims in his new book that the future Queen Consort labelled the Duchess of Sussex "the Minx" and a "self-seeking troublemaker".
READ MORE: The Duchess of Cornwall tests positive to COVID-19, days after Prince Charles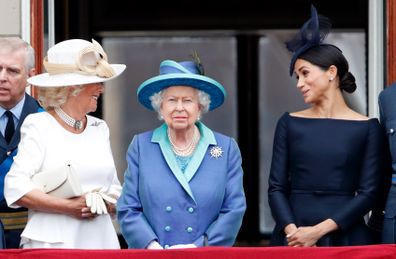 READ MORE: Camilla could wear royal family's most controversial jewel at coronation
"Camilla is the sort who would refer to Meghan as 'that minx' — the self-seeking trouble-maker whose antics will always end in tears," Bower claimed in an interview with The Sun.
Speaking on-air with TODAY, Daily Mirror royal editor Russell Myers discussed the explosive reports of Camilla's cruel nicknames.
"He's claiming in his new book about Meghan, which is due to be released this year, that Camilla labelled her 'the Minx'," Myers explained.
"She also apparently also called her a self-seeking trouble-maker."
He added: "I know I these two women didn't necessarily see eye to eye but that is quite a broadside to be labelling Meghan 'the Minx', and these two are not far off the front pages, and…