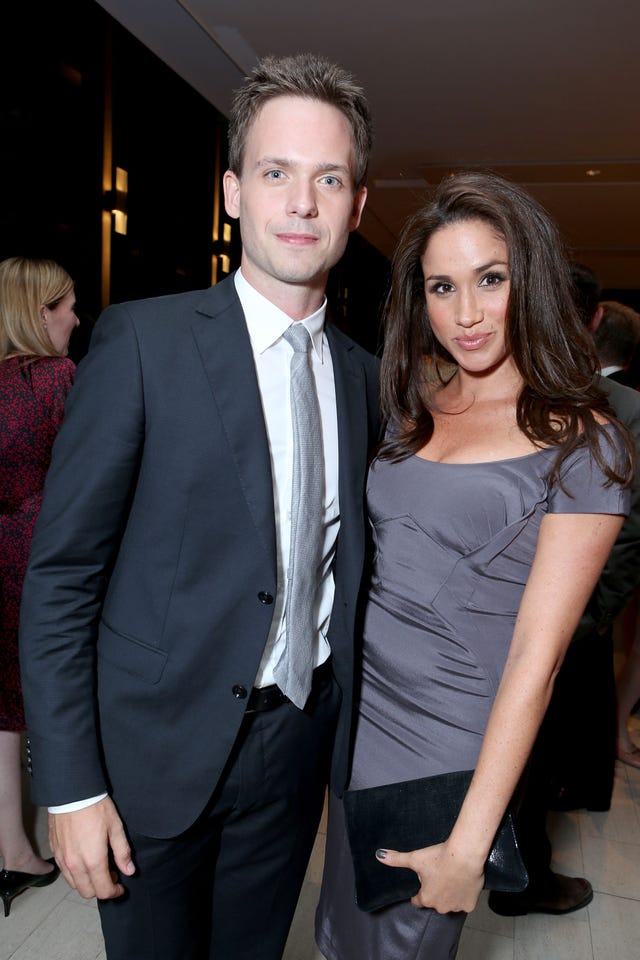 Alexandra WymanGetty Images
Meghan Markle's pre-royal life saw her star in popular law drama Suits, in which she played the on-screen partner, and later wife, of Patrick J Adams.
And while Markle may have last appeared on the show in 2018, having starred as the ambitious and admirable Rachel Zane for seven years, her former co-star Adams is clearly still loyal to her.
Adams, who attended the royal wedding of Markle and Prince Harry when they married at Windsor Castle in 2018, along with fellow lead Suits co-stars Gabriel Macht (Harvey Spector), Gina Torres (Jessica Pearson) and Rick Hoffman (Louis Litt), has shut down trolls berating the Duchess of Sussex.
The 40-year-old actor, whose married to Pretty Little Liars star Troian Bellisario, wrote on Twitter: 'Hello to the people and many bots debating all things Markle and including me in the conversation. I just want you to know a couple of things. 1. I don't read any of it. 2. Life is short. 3. There has to got to be better things for you to be doing. Even you, bots.'
Adams has shown his support for the royal prior to this.
This content is imported from Twitter. You may be able to find the same content in another format, or you may be able to find more information, at their web site.
After Markle's explosive interview with Oprah Winfrey that aired in March of last year, Adams spoke of her, saying: 'Meghan Markle and I spent the better part of a decade working together on…