Meghan Markle and Prince Harry were spotted "sneaking" onto a commercial flight back home to Los Angeles after copping criticism for using a private jet amid their activism on climate change.
The Duke and Duchess of Sussex were reportedly seen by a fellow passenger boarding a flight from New York after spending three days in the Big Apple for Veterans Day, the MailOnline reports.
A passenger claiming to be on the five-hour flight said the ex-working royals were "snuck into the last two seats" while the flight was held up for 20 minutes.
READ MORE: Private investigator apologises to Prince Harry for targeting ex-girlfriend Chelsy Davy in 'ruthless' pursuit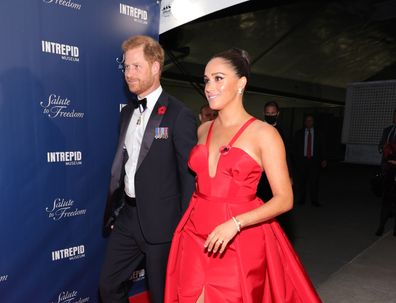 READ MORE: Prince Harry's private jet use slammed as 'hypocritical': 'Lecture me more on privilege'
"Ok this might sound unbelievable and I couldn't get a good picture and I get [sic] you can say this could literally be anyone….BUT….Prince Harry and Meghan were on our flight to LA last night!" the person wrote on social media.
"We didn't even know until a girl waiting to get off the plane next to us pointed them out. I couldn't get my phone out fast enough but it was them.
"They were quickly whisked away and we were in shock that we were so close and breathing the same air as our beloved royals!"
A picture shared by the passenger reportedly showed a suited Prince Harry in a face mask leaving…