In 2013, not long after turning 75, Queen Beatrix of the Netherlands hosted a dinner party.
The guest list featured members of the Dutch royal family and foreign royalty including the Prince of Wales and his wife, the Duchess of Cornwall. Frederick and Mary, the Crown Prince and Princess of Denmark, were also there. Everyone was dressed in their royal best, complete with medals, sashes and priceless jewels. Crown Princess Mary wore her wedding tiara.
The group sat around a large table, eating and drinking, in one of the central halls of Amsterdam's Rijksmuseum, surrounded by the paintings of Dutch masters.
Half-close your eyes and the event, with all its pomp and privilege, could have been extracted from any moment of history.
Perhaps it was.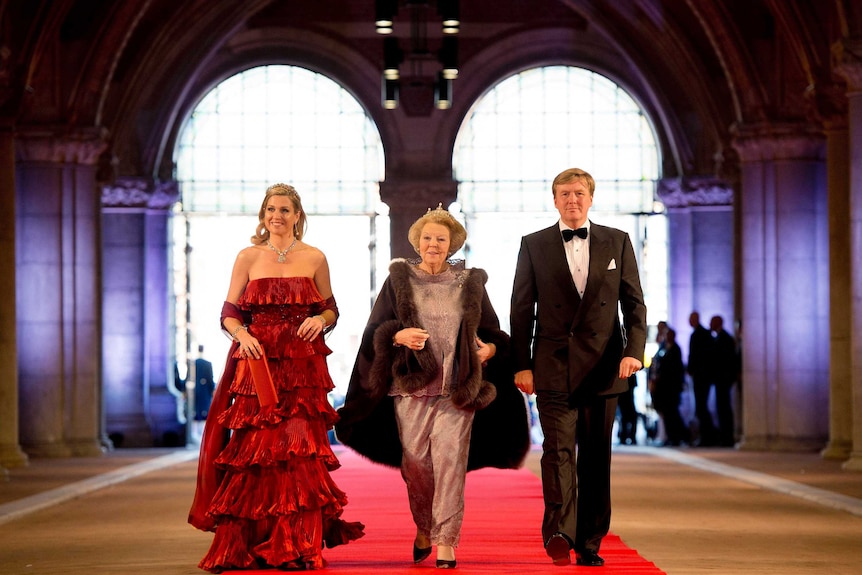 The Dutch Queen's dinner recognised her last night as monarch.
The following morning, at the Moses Hall inside the Royal Palace in Amsterdam before a crowd that included the royal family, the Dutch political cabinet and foreign dignitaries, a royal official sat on a gilded chair and read aloud the "instruments of abdication".
When he had finished Queen Beatrix signed a document which read: "I declare that I hereby step down from the monarchy of the Kingdom of the Netherlands, that the monarchy from this moment on is transferred to my eldest son and heir Willem-Alexander, Prince of Orange, in accordance with the statutes and the constitution of the Kingdom of…