Controversial British TV host Piers Morgan remains unapologetic over his behaviour towards Meghan Markle, saying she has "been great" for his career.
Morgan, 56, was at the TRIC Awards on September 15 where he was awarded TV Presenter of the Year. This is despite resigning from his position as co-host of Good Morning Britain after casting doubt over the Duchess of Sussex's claims she battled with mental ill health during her time as a full time working royal.
After receiving his award, Morgan told the Daily Star he "thanks" Meghan for helping his career.
When asked what the duchess may think of his win, Morgan responded, "Who cares… she's been great for my career, to be honest with you, so I just want to thank her.
"We haven't heard much out of her since the Ofcom win. It was a victory for free speech and whether people like me or don't like me, we are all entitled to an opinion."
During a sit-down interview with Oprah Winfrey that aired in March 2021, Meghan said she endured mental ill health during her time as part of the monarchy and had contemplated suicide.
READ MORE: Piers Morgan slams Nicki Minaj following controversial vaccine tweets: 'Rudest little madam'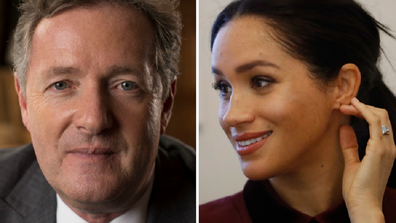 After expressing disbelief over Meghan's claims, Morgan began arguing with his colleagues on air, in particular Alex Beresford, before storming off-set.
He later tweeted about the incident, saying, "I was annoyed, went for a little…