A new made-for-TV film that depicts Meghan Markle dying under a crashed car has been labeled "sick" and "tasteless" by TV viewers.
The Duchess of Sussex is portrayed in a controversial new Lifetime television movie titled Harry & Meghan: Escaping the Palace.
The film is a dramatization of Meghan Markle and Prince Harry's decision to leave the royal family, but the opening scene depicts Meghan dying in a car crash surrounded by paparazzi in a scene reminiscent of the death of her mother-in-law, Princess Diana.
Princess Diana died after a car crash in Paris in 1997 while being chased by paparazzi.
The upcoming movie is set to premiere on Lifetime on Labor Day, September 6 at 8 p.m. and is Lifetime's third installment of Harry and Meghan's story.
This film recreates their royal exit, including the dramatic Oprah Winfrey interview that made worldwide headlines and sparked a debate about racism and the monarchy.
While some scenes have been recreated from real life, others are complete fiction—including the controversial car crash scene which is previewed in a trailer and causing a stir today.
"Is this a sick joke?" asks one Twitter user, while another added: "How very tasteless to reenact Diana death scene."
The scene opens the film and is reportedly a dream sequence that is meant to mirror Princess Diana's death.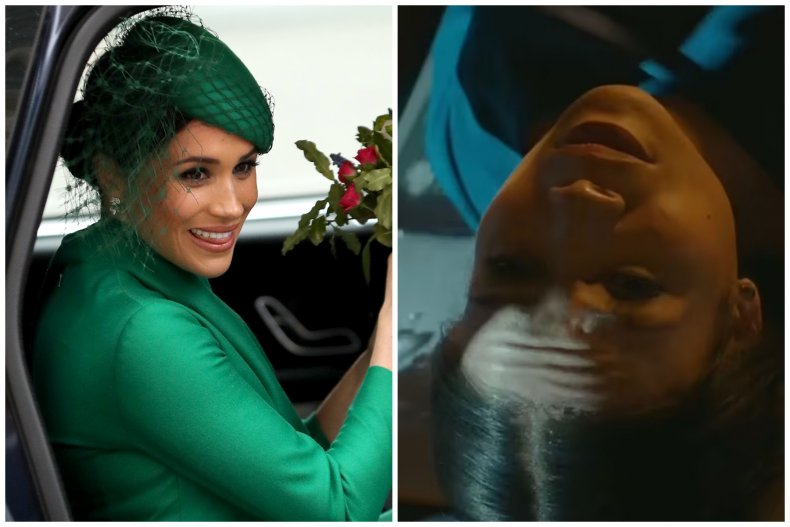 The overturned car is surrounded by photographers and a desperate Prince…