Trooping the Colour, the annual parade in the UK marking the Queen's birthday, hasn't been the same since 2019.
Last year's celebrations were cancelled due to the coronavirus pandemic and replaced with a scaled-back event attended only by the Queen.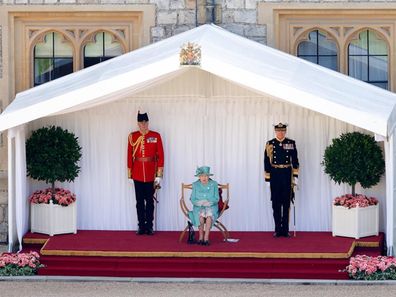 This year's event will also be smaller than usual, though details of the June 12 event haven't been confirmed.
But one moment from the last full-scale Trooping the Colour is still playing on the minds of royal fans.
RELATED: The biggest Trooping the Colour controversies
During the 2019 celebrations, which were attended by the extended royal family, eagle-eyed fans spotted what many claimed to be a "cold" moment between none other than Prince Harry and Meghan Markle.
But what actually happened? Why did it cause such a stir at the biggest royal event of the year? And why is it still brought up to this day?
Meghan had only given birth to son Archie the month prior when she and Harry appeared at Trooping the Colour on 8 June, 2019.
Dressed in a navy ensemble, the Duchess of Sussex rode in a carriage with Harry, Kate Middleton and Camilla, Duchess of Cornwall as the royals travelled to Buckingham Palace.
There, the family gathered on a balcony with the Queen to watch the annual RAF flyover, with Prince Louis making his first appearance…