Prince Harry and Meghan Markle's huge new deal with US multi-national Procter & Gamble (P&G) has come under question for the brand's links to "racist" products.
Earlier this week the couple announced their new partnership with the brand through their Archewell Foundation.
The long-term "global" deal sees the couple hoping to work with P&G to "uplift girls and women" to "build more compassionate communities" and promote the "transformative power" of sport.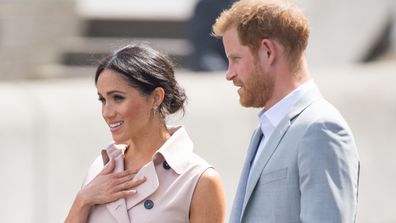 However, questions have been raised about the partnership, as the US company makes "tens of millions of pounds a year" selling skin-whitening products, the Daily Mail reports.
RELATED: Did Harry's latest claims contradict Meghan's Oprah bombshell?
Across Asia and Africa, P&G offers controversial skin-whitening products that many consider "racist", as they're designed to reduce skin pigmentation, typically in BIPOC.
There have been ongoing campaigns to stop the selling of such products for years, with P&G and its associated brands urged to ditch the "racist" products.
Olay – a P&G brand – sells White Radiance moisturiser in India, Malaysia and Singapore, while in the Philippines the brand markets White Radiance Light Perfecting Essence to "inhibit melanin formation".
Similar products are also marketed across Laos, Nigeria and other nations populated largely by BIPOC with darker skin tones.
RELATED: TV host challenges 'entitled' Prince Harry despite…