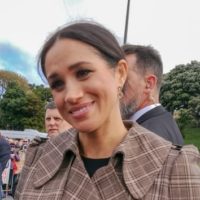 NataliaCatalina/iStockBy ZOE MAGEE and KATIE KINDELAN, ABC News
(LONDON) — A U.K. tabloid in a legal battle with Duchess Meghan has been allowed a delay in printing a front-page statement on the duchess' legal victory.
High Court Justice Mark Warby on Monday granted Associated Newspapers' Ltd. (ANL), the publisher of the Daily Mail and the Mail on Sunday, a stay until April 9 as the publisher continues to appeal the order.
Warby also agreed to a reduction in font size as requested by ANL and said the Mail Online only needs to run the statement on the website for seven days, rather than six months. The statement on Duchess Meghan's legal victory also only has to stay on the Mail Online's homepage for one day and can be moved to the news section for the remainder of the time, according to Warby.
Earlier this month, Warby had ruled that the Mail on Sunday must publish "on a single occasion" the following statement on its front page, "The Duchess of Sussex wins her legal case for copyright infringement against Associated Newspapers for articles published in The Mail on Sunday and posted on Mail Online – see page 3".
Then on page three, an additional notice will read, "Following a hearing on 10-20 January 2021, the Court has given judgment for The Duchess of Sussex on her claim for copyright infringement. The Court found that Associated Newspapers infringed her copyright by publishing extracts of her handwritten letter to her father in The Mail…