Meghan Markle's brother Thomas Markle Jr has spoken out about their sister Samantha, saying she has been jealous of the Duchess of Sussex "from the very beginning".
Markle Jr made the comment during the latest episode of E! True Hollywood Story which takes a look at Prince Harry and Meghan Markle's relationship.
In the episode Thomas Markle Jr talks about sister Samantha Markle who has given negative press interviews about Meghan since before the royal wedding.
Markle J says Samantha's behaviour comes from jealously.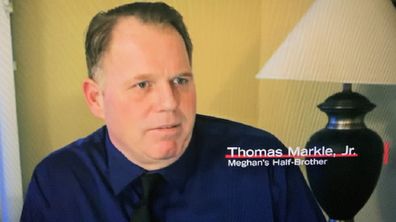 "Samantha has a very bitter personality," he says. "I think she was very jealous of Meghan in the very beginning and still to this day."
Meghan is the only child of the her father's second marriage to Doria Ragland. By the time Meghan was born Thomas Markle Sr had two children – Thomas Markle Jr and Samantha Markle.
Sources say Markle Sr "doted" on Meghan.
Royal reporter Omid Scobie says the reality of the relationship between Meghan and Samantha is that they hardly know each other.
RELATED: Meghan left 'sick to her stomach' by Samantha Markle's tell-all memoir
"You look at the reality of their relationship. They'd only met each other twice after Meghan had left the home which she'd shared with Samantha at the age of two or three."
Royal author Andrew Morton says Meghan's status as an "international celebrity" as her career as an actress grew grated on…