EXCLUSIVE: Royal filmmaker Nick Bullen believes the British monarchy can survive the recent bombshell interview the Duke and Duchess of Sussex gave to Oprah Winfrey.
On March 7, CBS aired a two-hour tell-all that Prince Harry and his wife Meghan Markle gave to the media mogul, 67. During the televised sit-down, Harry, 36, revealed that his relationships with his father Prince Charles and his older brother Prince William have ruptured.
Markle, 39, described feeling so isolated and miserable inside the royal family that she had suicidal thoughts. The Duchess of Sussex also alleged that a member of the royal family had "concerns" about the color of her unborn child's skin.
The family member was not Queen Elizabeth II or Prince Philip, according to Harry, sparking a flurry of speculation about who it could be.
MEGHAN MARKLE BULLYING CLAIMS TO BE LOOKED INTO BY OUTSIDE LAWYERS: REPORT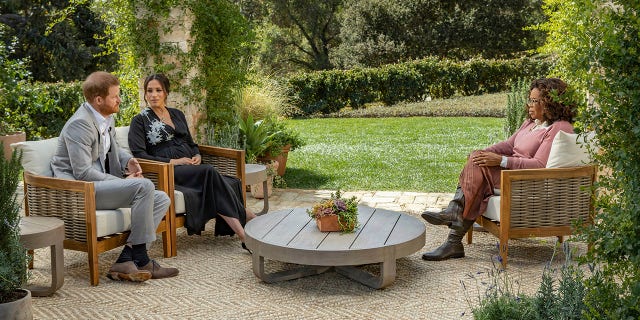 Still, Bullen believes the palace will "carry on."
"The monarchy can survive this interview without a doubt," Bullen told Fox News. "There is not an inkling within me that would suggest that anything but survival is possible for them. Look, this is bad. This is shocking. This is awful. And it's really sad. But the queen has been incredible in navigating these great personal and public disasters faced by the family."
Bullen is the co-founder…