Former President Donald Trump said that he'd feel even more strongly about throwing his name into the 2024 presidential race if Meghan Markle decides to run.
"Well I hope that happens because if that happened then I'd be, I think I'd have an even stronger feeling toward running," Trump told "Fox News Primetime" host Maria Bartiromo.
"I'm not a fan of her. I know the Queen, as you know, I've met with the Queen and I think the Queen is a tremendous person and I am not a fan of Meghan," Trump said.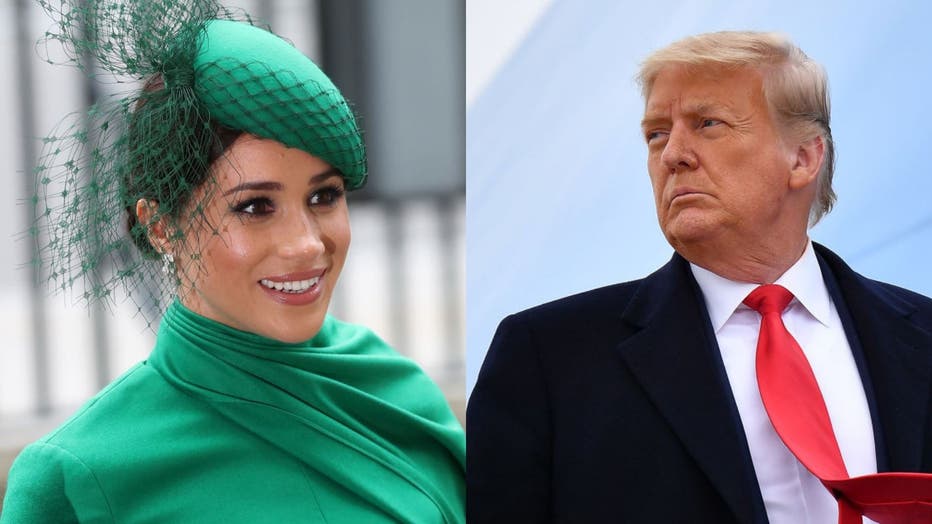 FILE – Photo collage of Meghan Markle and President Donald Trump.
RELATED: Meghan mulls future in politics, consults Dems: report
The Daily Mail cited an unnamed U.K. politician over the weekend who claimed that Markle was meeting with Democratic operatives to explore a potential bid for president in 2024. Markle has not confirmed the rumors herself.
And while there has been speculation that Trump could also be looking at a 2024 presidential run, he has only teased the idea, even going so far as to say "every poll" shows his supporters want him to run again.
"Well based on every poll, they want me to run again but we're going to take a look and we'll see. We have, first step's first, we have to see what we can do with the House," Trump said on…