Prince Harry and Meghan's popularity has fallen to its lowest level after their interview with Oprah Winfrey, according to a poll.
Their claim that questions had been raised about the colour of their son Archie's skin made headlines around the world.
Meghan also said she'd had suicidal feelings due to the pressure of life in the spotlight
But a survey suggests their tell-all interview has not gone down well with some people in the UK.
In contrast, support for the Queen and the Duke and Duchess of Cambridge appears to be unchanged and very positive, according to the poll.
Forty-eight per cent of people said they had a negative view of Prince Harry, compared with 45% with a positive view – giving him a -3 net score.
It is the first time attitudes have been more negative than positive towards him, said pollsters YouGov, and is a 15-point drop from 2 March.
Meghan's popularity also appears to have declined heavily after the interview.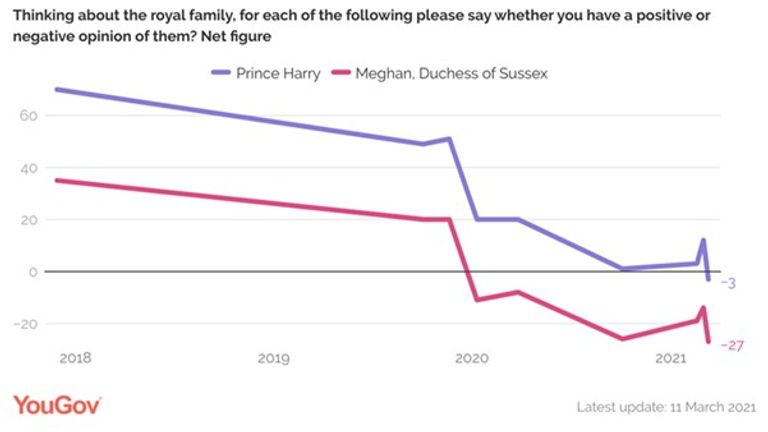 Only 31% had a positive opinion of the Duchess of Sussex, while 58% of the survey's 1,664 British respondents viewed her negatively.
This net rating of -27 is down from -14 just over a week ago.
However, the survey also reveals a divide among age groups.
Most 18-24-year-old (55%) like Meghan and only a third (32%) dislike her. The same is true for Prince Harry, with 59% having a positive view and 28% a negative one.
Over-65s,…