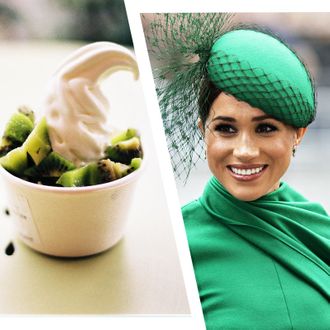 Who wore it best?
Photo-Illustration: by Vulture; Photos by Getty Images
Oprah Winfrey's Sunday-night interview with Prince Harry and Meghan Markle was full of heavy, sad revelations, but there was one moment of levity: When Markle described working at a Los Angeles frozen-yogurt shop called Humphrey Yogart as a teen. Twitter quickly erupted in delight that such a place, with such a straight out of The Good Place name, really existed, and that a future-ex-duchess could have worked there. While we couldn't fly to the one remaining Humphrey Yogart location in Sherman Oaks just to sample a frozen dessert with a tenuous connection to Meghan Markle, we were able to talk to Greg Rogers, the frozen-yogurt shop's publicist and a former employee himself, who answered every question we had about this mythical place.
Have you seen a boost in business since the Meghan interview?
Oh, definitely. Since Monday morning, when there were people waiting for us to open.
And has it been a different sort of crowd than the usual clientele?
It's kind of been a mix. It's been a lot of people who didn't realize there was still a Humphrey Yogart, that were all customers from the other stores. And then there were a few lookie-loos and people just wanting to take a picture of the sign.
So there were people…