An eye-opening moment during Sunday's Meghan Markle/Prince Harry interview with Oprah Winfrey was Markle's admission that, before the royal couple moved from the UK, she was suicidal and had nowhere to turn for help.
For healthcare practitioners, this has resurfaced the debate over universal suicidality screening and discussion about what should happen when patients screen positive.
The American Psychiatric Association (APA) reports suicide is the 10th leading cause of death in the United States, but the second leading cause of death in people age 10 to 34 years old.
The latest data from the US Centers for Disease Control and Prevention show that, in 2019, suicide rates dropped for the first time in 14 years. However, it is widely expected that in the face of the COVID-19 pandemic and its associated isolation, loneliness, and stress, the next round of data will show a surge in suicide deaths.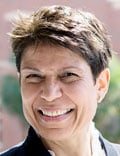 Individuals' mental health "has been deteriorating" since COVID-19, said Ludmila De Faria, MD, chair of the APA's Committee on Women's Mental Health.
"I can see it in my office. People who didn't necessarily complain about anxiety and depression before or who had been stable for many years are decompensating now," De Faria told Medscape Medical News.
Although other parts of the interview may have…