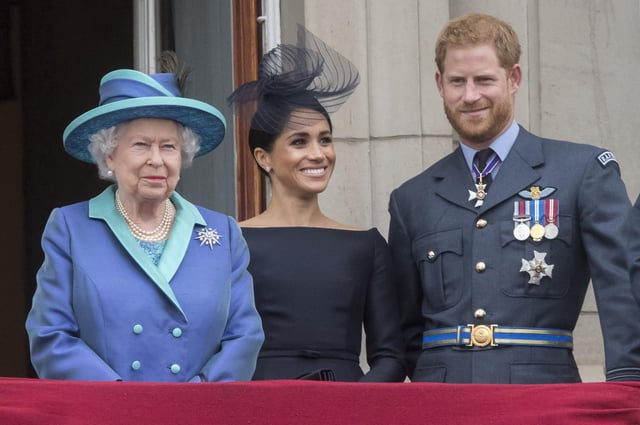 LONDON, ENGLAND – JULY 10: (L-R) Queen Elizabeth II, Meghan, Duchess of Sussex, Prince Harry, Duke of Sussex on July 10, 2018 in London, England. (Photo by Paul Grover – WPA Pool/Getty Images)
Vice Admiral Bob Cooling said the incendiary claims of racism and bullying by the Duke and Duchess of Sussex will have caused a 'deep wound' to the monarchy.
It comes after the couple revealed to American chat show host Oprah Winfrey why they 'stepped back' from royal life during an interview watched by millions worldwide.
Among the bombshell claims to come out from the tell-all was that a Royal Family member had asked Harry and Meghan what the colour of their baby boy, Archie's skin would be – prompting claims of racism at the heart of the monarchy.
Vice Admiral Bob Cooling, pictured in 2004 as the Captain ofHMS Illustrious,
Buckingham Palace has yet to respond to the inflammatory remarks, which were first broadcast in the US on Sunday evening. Oprah clarified that the unnamed individual royal in question was neither the Queen nor the Duke of Edinburgh.
Vice Adm Cooling insisted the method the Duke and Duchess levelled their accusations had been intended to cause 'maximum hurt to the Royal Family and pose a direct challenge to the credibility of the monarchy.'
Speaking to The News after their interview aired on Monday, the retired naval officer said: 'I believe this global embarrassment will be the…